Das Erlebnis
Winner's experience: the boots and gloves worn and signed by Tomeu Nadal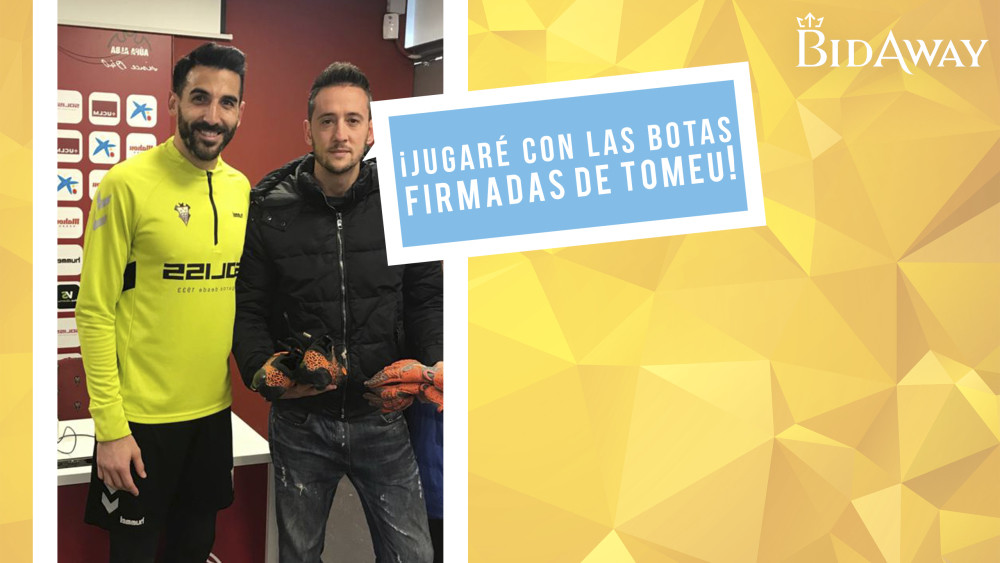 After the floods of October 9 in Majorca, Tomeu Nadal, goalkeeper of the Albacete Balompié Football Club, began a charity sweepstake whose prize was the boots and gloves used in the match against Malaga last October 12. All signed by himself.

The winner was Jose, fan and member of the Albacete Balompié Football Club. As well, he commented to us, "he did not expect to become the winner", since his intention was to join the cause of the reconstruction of the football field of C.D Cardassar from Sant Llorenç (Majorca).

He was watching Tomeu and the team train in the Albacete Balompié Ciudad Esportiva, which was accompanied by his little nephew. According to Jose, the kid was "more excited than me". After the training, they were invited to pass to the press room, where Tomeu received the prize of Mahou Five Star as player of the month. After that, the goalkeeper gave them the signed boots and gloves, as well as to take some pictures and talk about the situation of the team. An experience that Jose told us, he will remember all his life.


How did it feel to be the winner of the experience with Tomeu?

I didn't expect it! Happiness, surprise. Very happy. Besides, I knew it because of a guy announced it to me through Twitter. I went to check it out and actually saw that I had won.

What was the reason that led you to participate?
I participated for the cause. I thought it was a good initiative, so I thought that for a few euros, I could help. I didn't expect to win at all!
How was the meeting with Tomeu Nadal?
Tomeu is very nice, very good person. We took some pictures with him, chatted for a while about the team and stayed at the press conference.
What will you do with the boots and gloves?
I don't know very well what to do with them. Surely, I will use the boots, since I have the same number as Tomeu. Let's see if this way I can play a little better football! I still frame the gloves to keep them as a souvenir.
Do you want to win your dream experience?
Keep an eye on our homepage bidaway.com